Correct Disposal of Waste and Plumbing Supports
When waste is not disposed of correctly, it can cause a lot of damage to your plumbing and end up very costly.   Logan City Council has put together several resources to help people understand how to correctly dispose of their waste.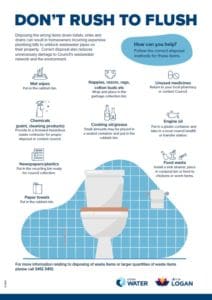 You can find more information on the Logan City Council website.
Need to find a plumber?  Try the Queensland Government's Online Discount Directory to find a plumber who provides discounts to Seniors Card holders.
Plumbing Support on the Gold Coast
Are you experiencing financial hardship?  Do you need essential, immediate plumbing assistance?  Are you a resident of the Gold Coast? 
City of Gold Coast have created a free service for eligible residents experiencing financial hardship to receive essential plumbing support.
More information can be found on the City of Gold Coast website here
Home Assist Secure
The Seniors Enquiry Line regularly receives calls from Seniors seeking support to address their plumbing issues.  Did you know that the Queensland Government's Department of Housing and Public Works offers a service which may be able to assist?
What is Home Assist Secure?
Home Assist Secure provides safety-related information, referrals and subsidised assistance to Queenslanders aged 60 years and over, or people of any age with a disability, who can't undertake or pay for critical home maintenance without assistance.
Your local Home Assist Secure service may be able to provide information on home maintenance, repairs, minor modifications and safety and security upgrades.  Home Assist Secure, may be able to assist to understand what work is required, plan and assist to contact appropriate tradespeople.    In some cases, Home Assist Secure may be able to assist with repairs or modifications.
Eligibility
The Queensland Government website states that to be eligible for Home Assist Secure services, you must meet all these criteria:
at least 60 years old or of any age with a disability
a Pensioner Concession Card holder
unable to complete the work yourself because it requires technical expertise or is a risk to your health and safety
unable to have the works completed through alternative assistance, such as through:
family or friends
If you meet this eligibility requirements, you may be eligible to receive a financial contribution towards labour costs for minor home maintenance or modifications if the work is related to your health, safety or security and needs to be done so you can remain in your home.
Home Assist Secure may be able to facilitate referral to cleaning services, mental health supports and other community services if needed.
Home Assist Secure is unable help with repairs or maintenance that's the landlord's (lessor's) responsibility under Residential Tenancies legislation or tenancy agreements.
More Information
Home Assist Secure can be contacted through the 13 QGOV on 13 74 68.

For more information please contact the Seniors Enquiry Line on 1300 135 500 or sel@uccommunity.org.au