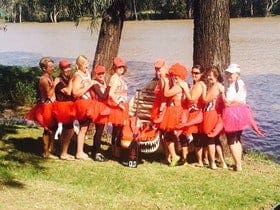 Care Balonne will host an annual Festival on the banks of the Balonne River to promote the community's awareness of the benefits of tourism and community cohesion. They have an organising committee that includes representation from the local Indigenous community and other emerging communities within the Balonne Shire. The event does encompass a wide range of cultural and multicultural aspects such as cuisine, customs, arts and dance. Through these mediums our community will experience a greater understanding of the culture and heritage existing in the Balonne Shire.
This event is about showcasing their beautiful natural asset the Balonne River and enhancing all activities that relate to their river. This event host differing entertainment, arts, culture, sporting activities and the famous River Dragon Regatta.
Venue:  St Georges Terrace, St George.
Phone: 07 4625 5450
Mobile: 0427 220 338
Web:    www.carebalonne.com